TGIF
Okay, I thought this was going to be a crappy day, since I had to start it out by going to Traffic Court to deal with the ticket I got for still having a CO license. But that didn't take too long, or go too badly, and when I got back, the picture below had shown up on lj: Benedict Cumberbatch on set for
Tinker, Tailor, Soldier, Spy
(the 70s suit must be for the role, the down jacket and banana BC's own). I think you all know by now how excited I am for this movie, which appears to be slated for 9/16/11. Plenty of time for me to reread the book again. (Yes, I even like the hair).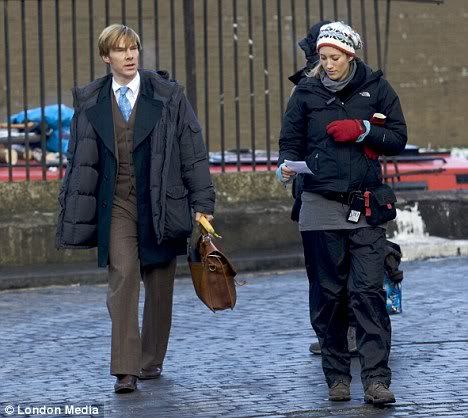 And THEN,
azziria
posted
this absolutely knock-out Steve/Danny NC-17 ficlet
, apparently inspired by something I said yesterday. Go read it--but maybe wait til later if you have important stuff you have to get done this afternoon. It is distracting--in the best possible way!
So, in honor of having sent my last fic commitment with a deadline off to beta, I'm thinking I'll sign up for the current round of the
Five Acts meme
later tonight.
Happy Friday, folks!