Five Acts Meme
I've been waiting for this meme to come around again since I saw it (too late) in August, because I so wanted to give it a try. But now that it's here, I'm scared--very scared. Still, this is my chance, right? *takes the plunge*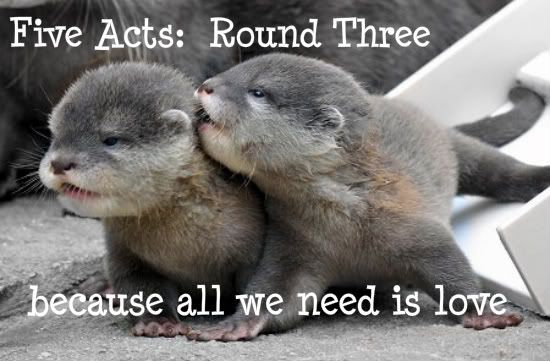 This is how it works:
Five Acts meme
+ Post a list of your five favorite acts/kinks to read about. At the bottom, add what fandoms/pairings you're interested in.
+ Read other people's lists; the master list of lists is here.
+ Post comment-fic based off of other people's interests.
Here are my kinks and pairings:
Kinks:Knifeplay
: (RACK, pls., ie, consensual only): More interested in sensation play/ pain play/ marking than power play for this one.
Fever
: h/c, with or without sexual content, bonus for fever!sex.
Voice kink
: Intense sensual response to a particular voice. Could be dirty talk, could be just that voice saying ordinary things.
Sparring/Wrestling
: Grappling—in anger or play—that leads to something more sexual. Just lots of rough, un-choreographed, visceral whole-body contact. Not sexual at first, but ends up there.
Swimming
: No, that's not a euphemism for something else—I really mean people swimming together (like Alex and Neal in that scene from
White Collar
, or Burt Lancaster and Deborah Kerr in
From Here to Eternity
). Sexual content as you wish, but bonus points for lots of underwater touching and UST.
Fandoms & Pairings
:
Supernatural
: Dean/Castiel, Dean/Lisa, Dean/Tessa.
Hawaii Five-O
: Steve/Danny—but any pairing here is totally fine!
Sherlock Holmes
(book canon or movie 'verse): Holmes/Watson
BBC Sherlock
: John/Sherlock, Lestrade/John, Lestrade/Sherlock.
Sherlock RPF
: Martin/Benedict—but if you could keep this one to UST, kissing and/or groping at most, I'd be eternally grateful.
White Collar
: Peter/Neal, Peter/Elizabeth/Neal, Peter/Elizabeth
Merlin
: Merlin/Arthur, Merlin/Gwaine
Southland
: Sherman/Cooper
Fringe
: Peter/Olivia, Olivia/Linc